About us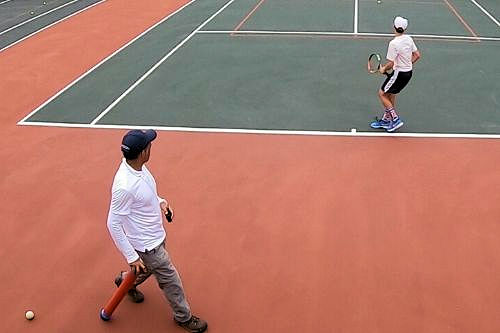 Our teaching is available to everyone. No discrimination on race, color, religion, or family background. The Academy is open to everyone. We thank the City of Bellaire for letting us host the Academy in Feld park on Ave.B. The courts are located on Ave.B between Bissonnett and Bellaire ave. in the City of Bellaire within Houston, Texas. We specialize in technique sessions. "The more the merrier" is not always true. In tennis, a bad habit that is practiced several times does not get converted into a good habit. On the contrary, a bad habit generally develops into an injury. We encourage every student to seek additional practice sessions through school teams and to compete. However, We also believe that tennis at the competitive level is not necessarily for everyone. When possible, practice should be scheduled with a mixture of lower, similar, and higher ability players. The competitive tournaments outlined here in the tournament link and the ladder matches for juniors help you with this factor.

In addition to practice of the technique, all players should try to play in the tournaments available through theUnited States Tennis Association that correspond to the player's age group and/or level. A player can participate in a tournament of lower, similar, or higher level also. All competitive players should try to structure their tournament calendar in such a way as to contain some order of periodization that will help them increase their performance. We believe you must make a decision as to how hard you wish to work at your tennis. Such a decision should be made very close to the time when you have learned the basics. Competition at the State and National level is very tough. If you decide you want to move towards the competitive arena, We believe that you should work hard and have discipline. Prioritize your time in such a way that you can have both, plenty of time to practice and plenty of time to study. Only then you will attain the highest levels of knowledge and skill... . To seek and attain the best performance, to become the best that you can be, you must make some sacrifices. You may miss a party or you may have to excuse yourself from a Saturday night function early since you have a tournament the next day. Self restrain goes parallel with self discipline and self mastery!

"Making tennis players everyday! That is our mission statement. It is plain and simple: Army's style: "plan your work and work your plan." Nothing else will take you there. This is the Australian's Percy Cerruty mentality that was transfered to many of the Australian stars. This is the philosophy that makes us happy and this is the phiosophy that We imitate here at the Academy. There are coaches that 95% of their success is on recruting good players. We are the opposite, We spend most of our time "making good" players. For us coaching is like an art, like a science or philosophy. Are champions made or born? If you understand how humans are born you will then agree why I tell my students that they are champions. The most important thing is to teach winning habits. Can a seed grow just because is a seed? No! A seed needs good soil and nutrients and water and sun. In the same way a champion needs good training, good coaching, good parenting. We love Tennis because it gives us the feeling of... attaining! The hard work, the goal setting, the feeling that when you wake up in the morning you are striving for something worthy - it is just a great feeling. If your goal is to be great in tennis, then imitate the great tennis players of all time: Don Budge, Rod Laver, Ken Rosewal, Renee Lacoste, Fred Perry, Jack Kramer, Stan Smith,Jimmy Connors, Mats Wilander, Martina Navratilova, Chris Evert, and the legends in the making like Pete Sampras, Steffi Graff, Monica Seles, Roger Federer, Rafael Nadal, and the William sisters and many others. Feed your mind with books about great players and great men and, without a doubt, your spirit will be filled with what they felt. And like Shakespare said: be true to yourself. "To thine own self be true, and it must follow, as the night the day, thou canst not then be false to any man."